Bound Between Cliffs (2022)
Bound Earth, 2022,
118 1/8 x 26 3/4 x 5 7/8 in,
Corrugated iron sheet, silk, cotton, indigo soil, red vat dye,
oxidized metal from police guns, magnets, screws, and red soil
Sharp Edges & Weathered Cliffs, 2022,
(each) 72 × 36 3/5 × 1 1/5 in,
Brass, steel, silk, cotton, oxidized metal from police guns, white rubber, screws, and red soil
Bound Between Cliffs is a meditation on the ongoing crises we are faced with due to the unsustainable way of life in the global West. The title reflects on the nature of our relationship with the Earth, which carefully balances sexuality and exploitation. The works serve as an encounter with migration, experiences of climate change, housing insecurity, and the ripple effects these problems have on the future of the world.
Each material used in this series is a signifier for these themes. Silk, which is used for shelter by insects, symbolizes the unwinding of housing for the benefit of producing luxury fabrics. The dyes in the textiles are made from soil and decommissioned firearms that have been dissolved. These two materials are transformed and abstracted from their original form and purpose to help the viewer confront the nuanced reality of our relationship to them. The use of soil reinforces the notion that we are, detrimentally, several degrees removed from our proximity to the Earth. The reddish hues made from the dissolved weapons evoke the violence suffered at the hands of those who wield them.
Corrugated metal and steel sheets we think of as typical construction materials, but rarely do we think about their uses in building refugee encampments. The stark contrast between Google satellite images of Kenyan refugee camps and the corrugated metal installed across the window of a Georgian revival home places this reality at the forefront. The steel sheets also serve as sensorial interlocutors as they create vibrations when stepped on, giving the viewer an embodied experience of the material.
Bound Between Cliffs amplifies the negative ramifications of accelerated climate change and unsustainable consumerism, making these consequences tangible and unavoidable.
Detail image of Sharp Edges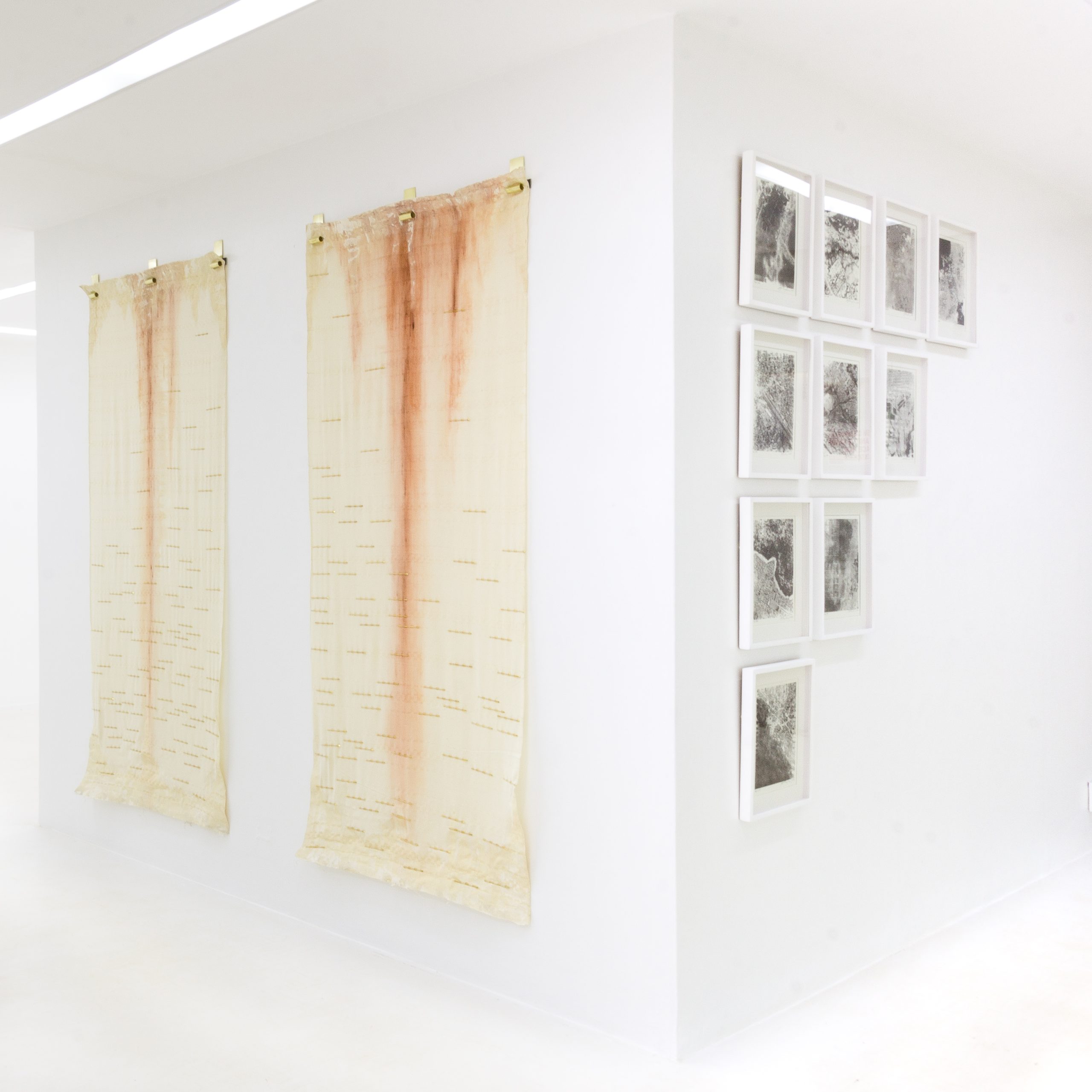 Grid Encountering Natural Form II, 2020,
55 7/8 x 44 7/8 in,
Archival screenprint on paper
Between Bones, 2022,
101 5/8 x 118 1/8 x 2 in,
Brass, steel, silk, cotton, black rubber, and butane paint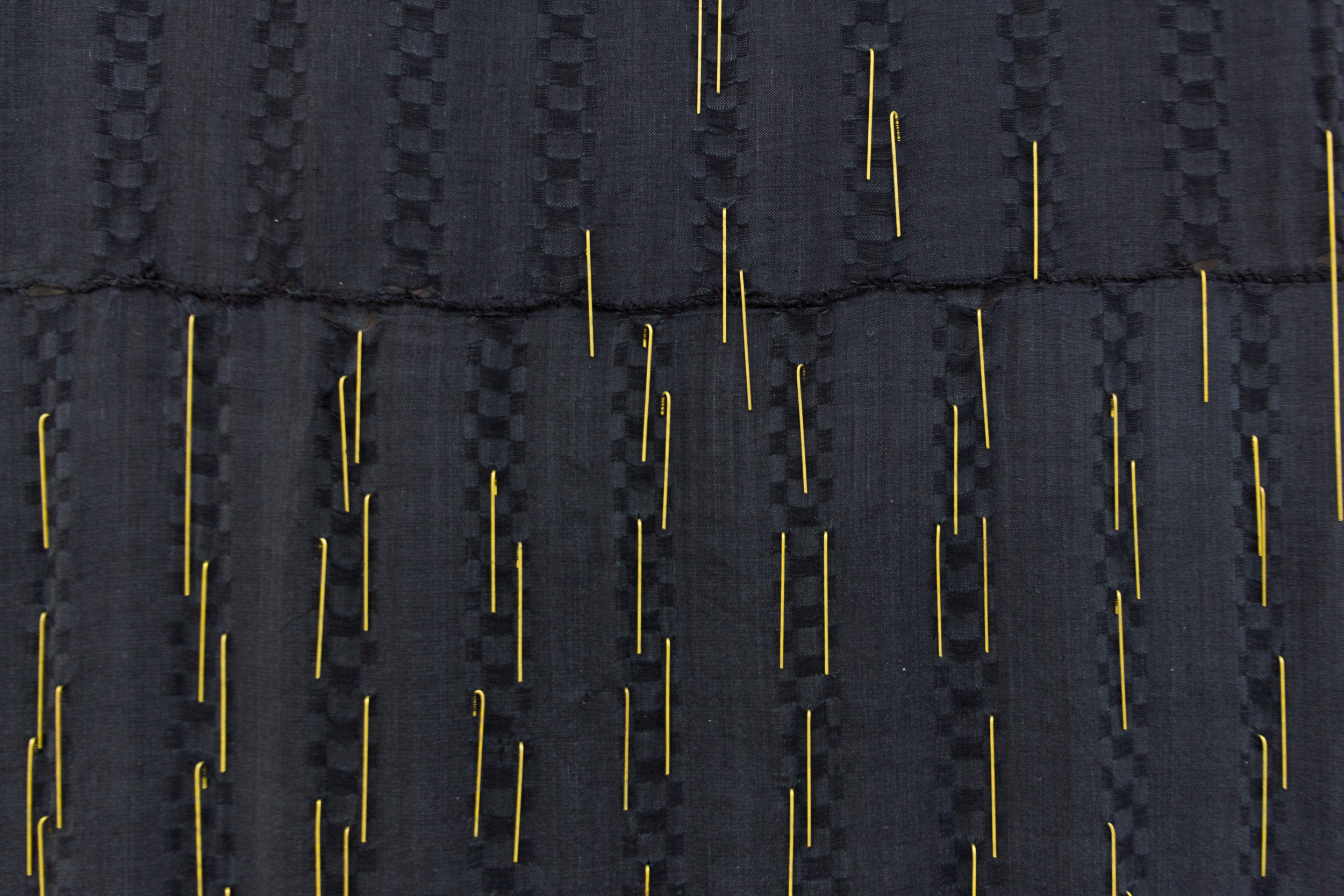 Detail image of Between Bones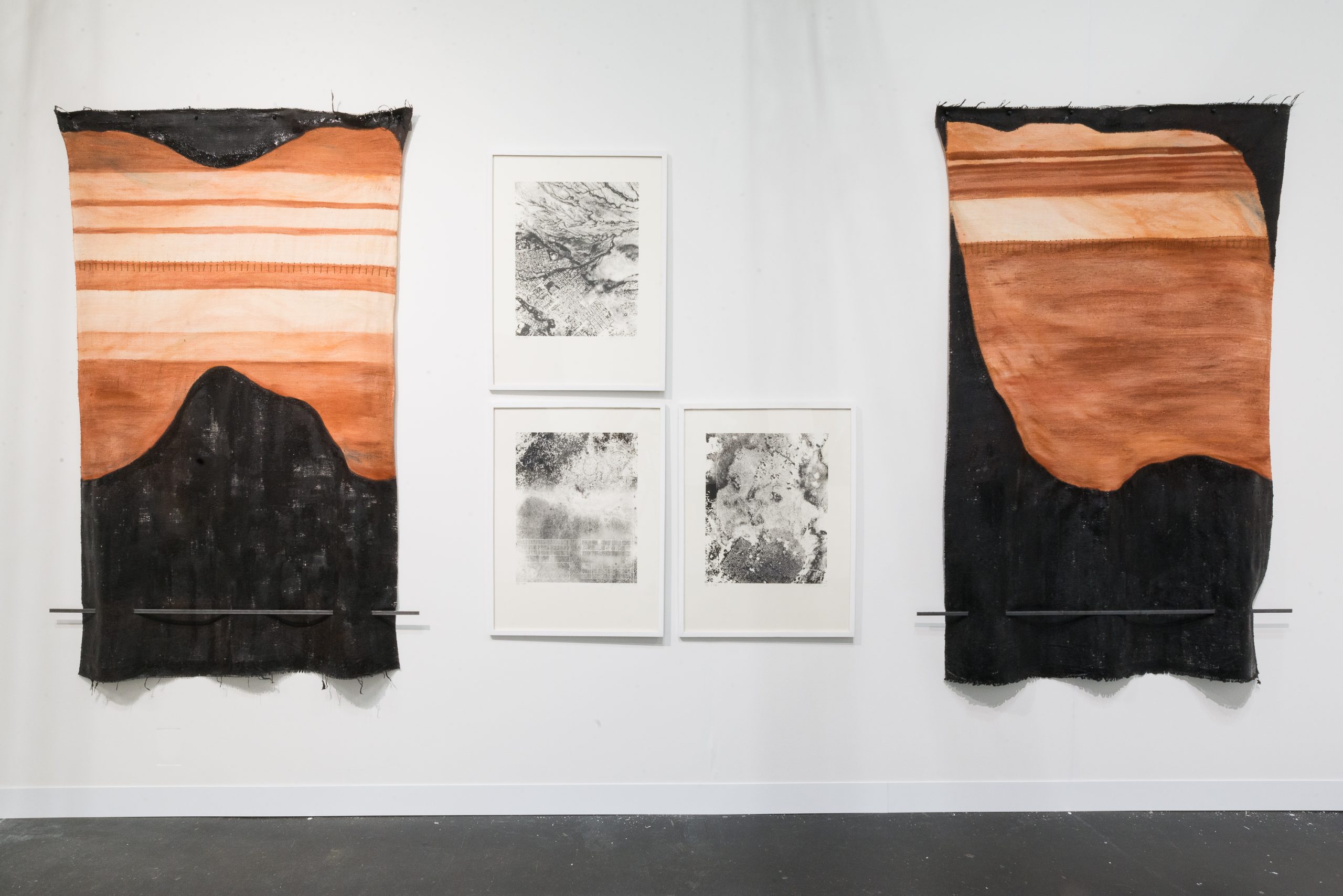 Strapped Arms, 2022,
70 × 45 in,
Silk, cotton, liquid rubber, dissolved decommissioned police gun dye, soil, steel, steel nails, nuts, and bolts, spray paint, aluminium
Grid encountering natural form, 2020,
19 7/10 × 2/5 × 15 9/10 in,
Screen print
Sunken Limbs, 2022,
70 × 45 in,
Silk, cotton, liquid rubber, dissolved decommissioned police gun dye, soil, steel, steel nails, nuts, and bolts, spray paint, aluminium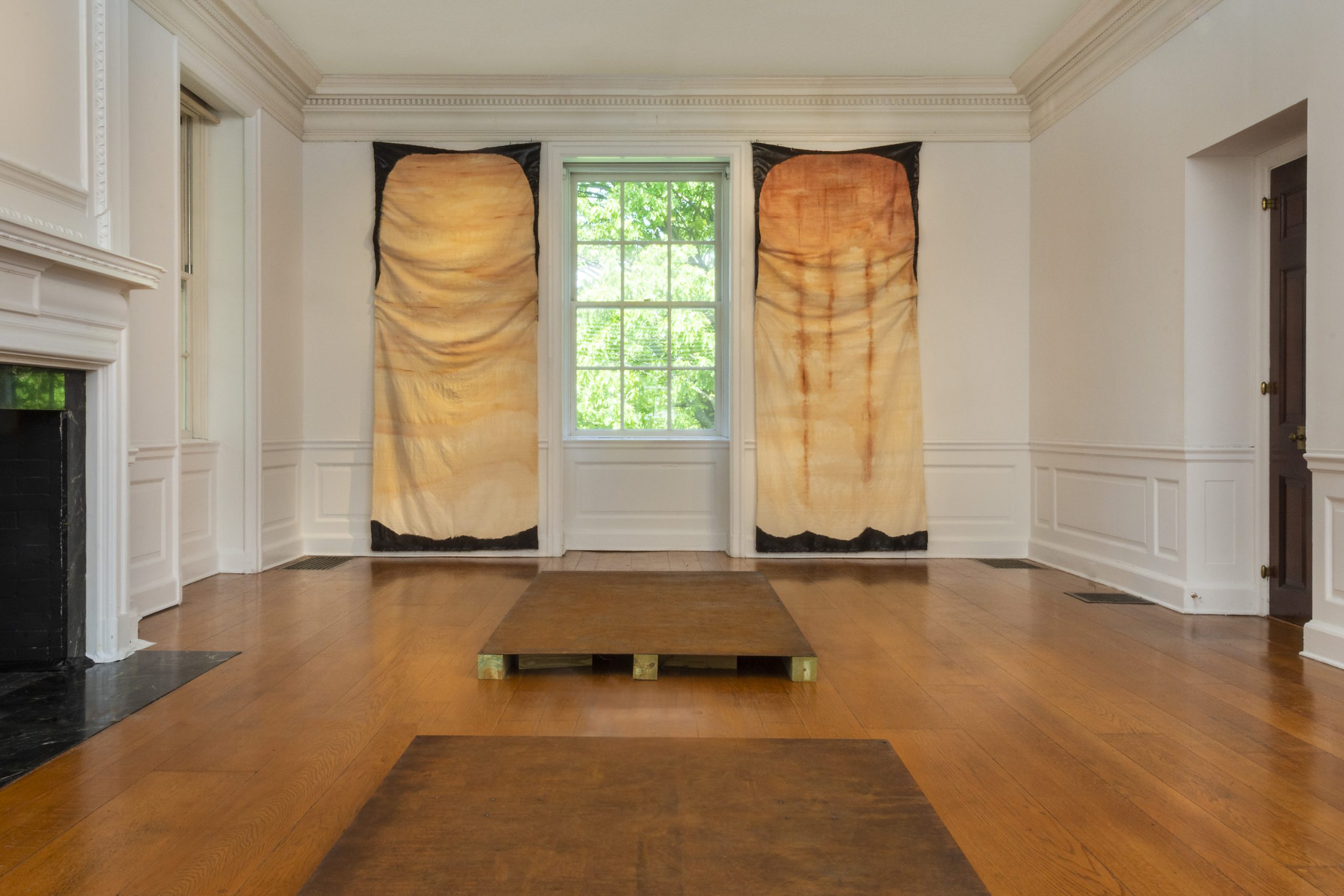 scraped knee, 2022,
(each) 108 x 48 in,
Silk, cotton, liquid rubber, dissolved decommissioned police gun dye, soil, steel, and iron nails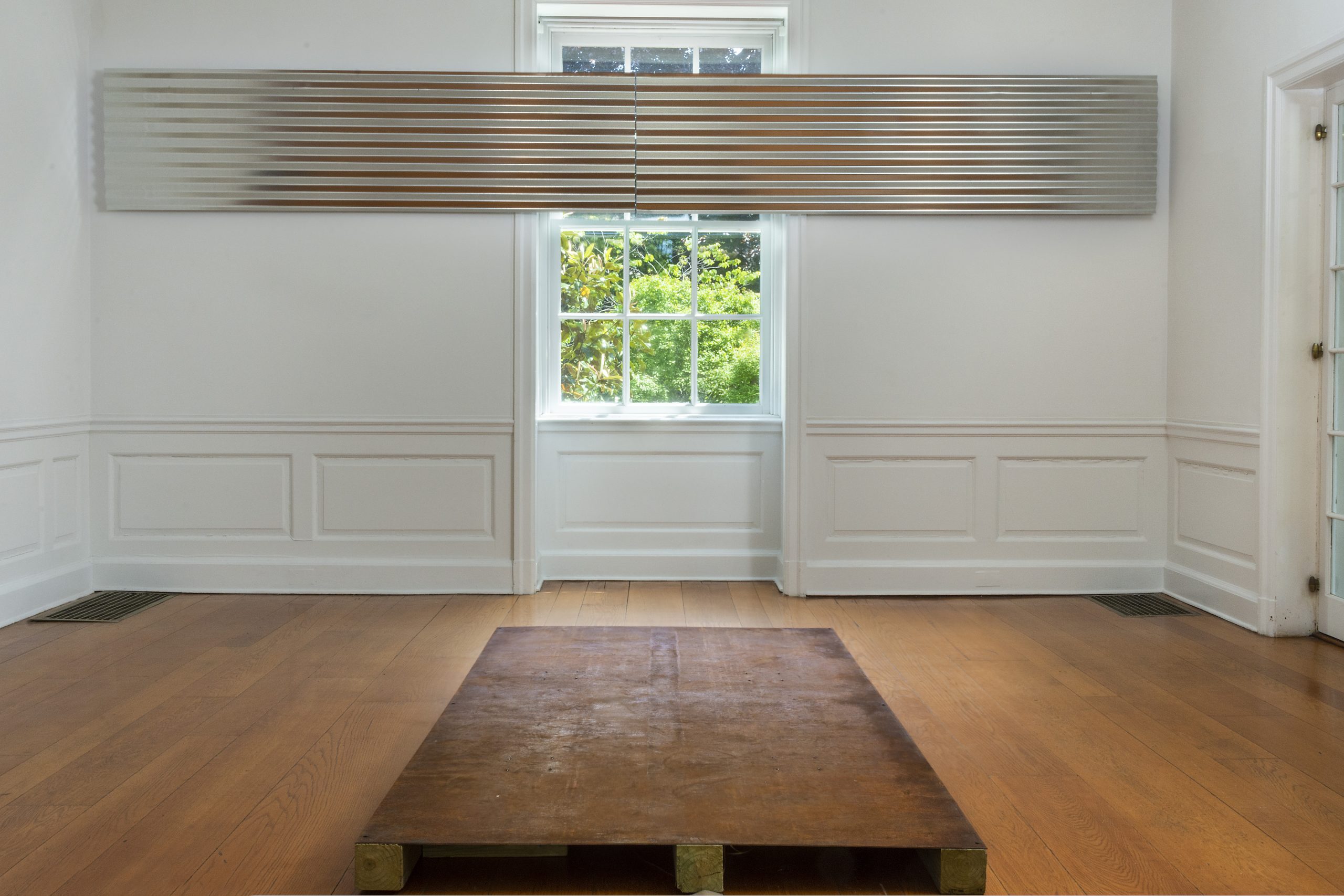 untitled, 2022,
16ft x 4ft,
Corrugated steel in Georgian revival home